In order to pursue our goal to make Polylang as easy to use as possible, the main feature added to this new version of Polylang is a setup wizard to help new users in the initial choices required to setup a multilingual website. Several steps will guide you in the installation process:
Because we noticed that a lot of our customers forget to enter their license keys and then have issues with the automatic updates, the first step will be to enter the license keys for Polylang Pro and / or Polylang for WooCommerce.
Then comes the first step to go multilingual: select the languages to add.
The next step allows to choose whether to translate media or not.
Then comes a step to select which language to associate with the existing content, if any.
Finally, if your site displays a static front page, all its translations will be created.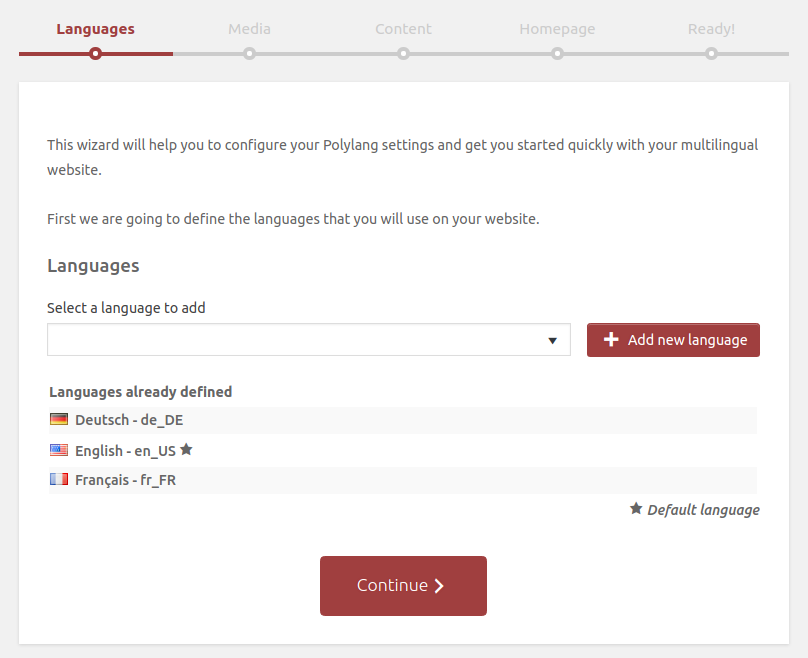 Two important steps, translating menus and adding a language switcher, remain outside the setup wizard, but once done, your site should be ready for creating multilingual content. For Polylang for WooCommerce users, an additional step to translate the WooCommerce pages is already in preparation. Of course, all settings defined in the initial configuation can be modified later in the usual settings pages.
The Polylang Pro customers will benefit from a few more additions. First of them, we added metaboxes at the bottom of the strings translations panel to export and import them in PO format. This is one of the most common format used for translations that can be used by most translation tools, including of course, Poedit.
As we know that Advanced Custom Fields is greatly appreciated by website developpers, we are continuously improving our integration with this plugin. It will now be possible to decide when creating or editing a field whether it must be simply copied at translation creation, or if it must be synchronized across all translations. There is no more need to write a single PHP line or a custom wpml-config.xlml to achieve this goal.
You can test the beta version of Polylang 2.7 as of today. Polylang Pro 2.7 RC1 can be downloaded from your account. The free version is available on GitHub. Please test it and report bugs on GitHub.
Picture illustrating the article by Couleur and licensed under the Pixabay license.